Carl Sagan and the importance of skeptical thinking in the universe of interests that surrounds us.
A few years ago a Brazilian TV station did a story with a ufologist and a paranormal that included an interview with an alleged extraterrestrial. Of course, it is easy to laugh at naive people who believe in this kind of crude fraud, but when the topic is more convincing and the arguments are reasonably well structured, we are less skeptical and more likely to believe it.
Especially if the information comes from sources that seem to us to be reliable, such as the press, blogs, and shares of our friends on social networks. Especially in a scenario in which the amount of information is so great that to manipulate the truth, it is enough to regroup its fragments or shed light on those that confirm our beliefs.
I'm not just talking about eccentricities, but about issues relevant to our lives, like politics and economics, for example. We only need to listen to the (usually superficial) version of one of these sources to take possession of the truth and launch ourselves into the battle of convincing anyone who has a different view from ours.
So that we are not just receivers and transmitters of decontextualized pieces of information, we need to keep an open mind to all possibilities: that the content we are receiving is plausible in its entirety, in parts or completely false. Recalling that often the biggest lures are the least noticeable
Before sharing any facts, the ideal is that the information is confirmed in more than one source. The depth and plurality of sources are robust foundations for a clearer view of reality.
The dispassionate analysis of the arguments and the identification of contact points with previously tested versions allow us to identify which ones are worthy of occupying a space on the shelf of viable possibilities.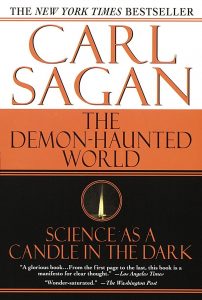 The demon-haunted world: science as a candle in the dark – Carl Sagan, 1995.
In this work, Sagan introduces the scientific method to laypeople, encouraging them to think critically and skeptically. Sagan claimed that skeptical thinking is a way to construct, understand, rationalize and recognize valid and invalid arguments, and to prove them independently. He believed that reason and logic must prevail in favor of the truth.
Leandro Correa
Beat Communication