UMA AGÊNCIA DO TAMANHO DA SUA EMPRESA
A Beat Assessoria é uma agência de comunicação que traz soluções em assessoria de imprensa, produção de conteúdo, criação de sites e design. Com uma formatação inteligente, a Beat trabalha com profissionais acionados por projeto. Uma estrutura flexível que se adapta a cada perfil de negócio. Para saber mais como a Beat pode ajudar a gerar mais negócios para sua empresa, basta clicar no botão abaixo ou enviar um email para beat@beatcr.com.
THE BEST SOLUTIONS FOR YOUR BUSINESS
Beat is a communication agency that provides solutions on websites and design with professionals hired by project. A flexible structure that adapts to each business profile. To learn more about how Beat can help generate more business for your company, just click the button below or send an email to beat@beatcr.com.
O QUE PODEMOS FAZER POR VOCÊ / WHAT WE CAN DO FOR YOU
Trabalho voluntário de Assessoria de Imprensa da Beat Assessoria gerou mais de 1 milhão de reais em mídia espontânea.
Beat's press office voluntary work produced more than U$ 200,000 in spontaneous media.
O desenvolvimento de sites personalizados pela Beat é realizado de acordo com as características de cada negócio. Cada projeto utiliza ferramentas que tornam a navegação fácil e intuitiva para o usuário. O design é limpo e moderno, com recursos que agilizam o encontro das informações dentro do site.
If you have a business or are a self-employed professional and still don't have an online presence, it's time to create a website. The development of websites by Beat is carried out according to the characteristics of each business.  Each project uses tools that make navigation easy and intuitive for the user. The design is clean and modern, with resources that make it easier to find information within the site.  Beat Web Design can help you. Using the WordPress platform, we created a clean website, easy to navigate and with total autonomy to make changes. If you want to have a modern website in an uncomplicated way, contact Beat Web Design. We have the ideal solution for you.
FELICIA CORREA PSYCHOLOGYST
Psychotherapist Felicia Correa has been working for over 20 years in Austin, Texas. Her website, developed by Beat, uses a color palette and visual elements related to the positive energy of nature. A concept of peace and health related to the results of the work that Felicia does.
ODISSEIA SCHOOL OF COACHING
The creation of the Odisseia website had as a starting point the SWOT analysis and the visual identity diagnosis. As a totally new company, Beat also created the name, logo, commercial materials, and the entire content of the presentation.
Located in Brazil, Canoas Shopping is a large mall with more than 200 stores. The redesign of its website provided a current, responsive design with easy access to information for the visitor. Its configuration allows autonomy in the operation and integration with social networks.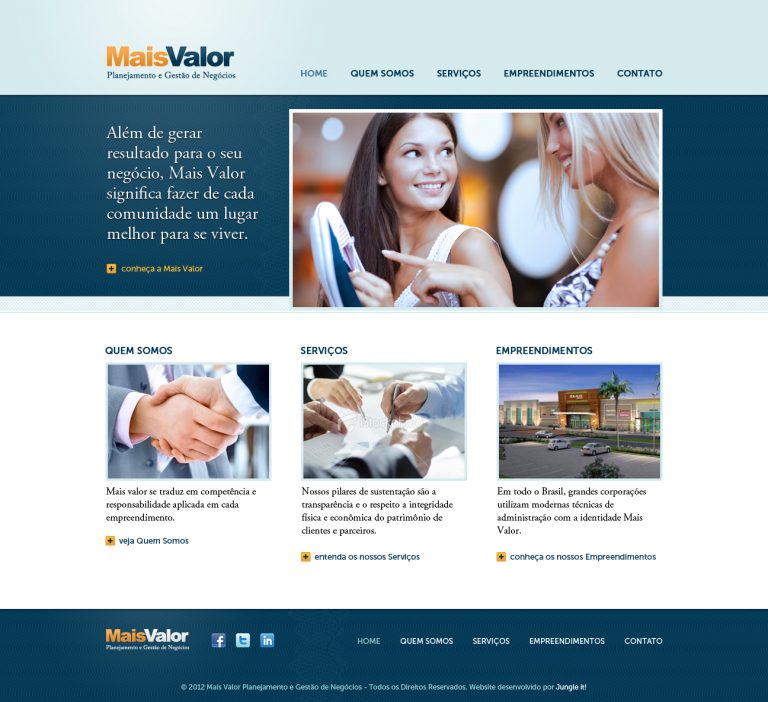 Mais Valor works with shopping centers. Its website has been completely redesigned, integrating the company's institutional and commercial content. In a functional and elegant way, it uses the main standards of web usability and optimization of search results.
Cada projeto de assessoria de imprensa da Beat começa com uma profunda análise do cliente, do mercado em que ele está inserido e dos seus objetivos estratégicos. O trabalho é realizado de forma estanque, em sintonia com as estruturas de marketing e vendas da empresa. Abaixo, três cases de assessoria de imprensa para Canoas Shopping, Copa dos Refugiados e Jump Sapatos. 
A produção de conteúdo é uma estratégia fundamental na presença digital de uma empresa. Temas relevantes publicados com regularidade geram audiência, engajamento e autoridade em sua área de atuação.
A Beat Assessoria desenvolve conteúdos personalizados para cada perfil de empresa. Um processo que começa com a definição do público a ser atingido, identificando suas características e produzindo tópicos que se encaixam ao que ele está buscando.
O passo seguinte é a escolha das palavras-chave que direcionam as buscas do Google para o seu conteúdo. Toda ação é inserida em um calendário de postagens constante para que a empresa consolide sua reputação online e atraia mais consumidores.
A Beat Assessoria trabalha de forma remota com uma equipe de designers que atuam por projeto. Além da otimização de recursos, essa estratégia permite optar entre os melhores profissionais do mercado, pelos que melhor se encaixa no perfil do seu negócio.  Seja qual for a sua necessidade, oferecemos soluções em design para a criação desde o logotipo e identidade visual com todas as aplicações necessárias, até sinalização interna e projetos gráficos de revistas.
Beat Assessoria works remotely with a team of designers who work by project. In addition to optimizing resources, this strategy allows you to choose between the best professionals in the market, for those who best fit your business profile. Whatever your need, we offer design solutions for creating everything from the logo and visual identity with all the necessary applications, to internal signage and magazine graphic projects.